Nível de perigo
:

9
Tipo:
Anti-Spyware Falso
Sintomas comuns de infecção:
Instala-se sem permissão
Conecta a internet sem permissão
Lentidão da conexão a internet
Travamento do sistema
Pop-up's irritantes
Lentidão do computador
Vídeo de Infecção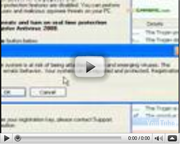 Dream Scan Soft
Rogue antispyware applications are computer threats that we would definitely like to avoid, but that is not always successful. Dream Scan Soft is the newest rogue antispyware in the field and it possesses everything a malicious computer application needs in order to trick unsuspecting users into doing everything it wants. Thus, Dream Scan Soft can rip you off to the very last cent a lot faster than you think.
The point is that Dream Scan Soft has a sophisticated interface making it look like the real deal – if you look at it closely there is basically no difference between the rogue and a popular antivirus program released by a reliable vendor. This is the main reason why Dream Scan Soft is so successful at what it does. It takes only a few seconds for a user to be fooled into believing that there are a lot of viruses installed on his computer and he must terminate them with Dream Scan Soft.
However, Dream Scan Soft is not as sophisticated as the biggest families of fake antivirus applications, mainly because it does not exhibit a wide range of rogue infection symptoms. Naturally, it does perform a scan and expects you to purchase the full version of the program, but it is not fierce in doing so. Dream Scan Soft does not block .exe files or your Internet, and you can simply close the application to stop it from running a full system scan.
Dream Scan Soft shows only one window with fake scan results, and it tries to convince you that you are infected with such dangerous threats as Backdoor/Spy.W32, Trojan/Win32, rootkits and so on. However, that is definitely not the case and you must not click the Buy NOW! button, as purchasing the full version of the program would not solve your problem.
The full version of Dream Scan Soft is being sold for $79.95, and the purchase page requires you to enter your credit card information, such as Card Type, card number, expiration date, CVV2 number and so on. However, if you give away this information, especially the CVV2 code, the cyber criminals behind Dream Scan Soft will be able to access your bank account and steal your money. Therefore, you should never do it, even if Dream Scan Soft claims that your PC is seriously infected.
The fake system scan results are how Dream Scan Soft convinces the user to purchase the full version of the application, but that is not an option because it obviously leads to the ultimate money loss. In reality the user should remove Dream Scan Soft with a reliable antimalware program if he is not experienced enough to terminate the rogue manually. Be sure to get rid of Dream Scan Soft in time otherwise your system might be damaged for good.
We recommend scanning your system with SpyHunter free scanner to determine all the malicious rogue files. Acquiring a full version of a reliable antimalware tool will help you to terminate Dream Scan Soft and other potential threats, as rogues seldom come alone, and there might be other malware installed on your PC.
How to remove Dream Scan Soft
Close the program by clicking the red X at the top right corner of the interface.
Delete dreamscan.exe file that should be on your desktop.
Run a full system scan with SpyHunter free scanner.
If you cannot find the dreamscan.exe file, check your Downloads folder or any other directory where you usually save all your downloaded files. You can also run a system search via Start menu.